MATTHEW Jordan carded a stunning 64, which included a hole-out eagle two followed by five successive birdies, at St Andrews Old Course to take the halfway lead in the Alfred Dunhill Links Championship.
The promising Cheshire has been plying his trade primarily on the European Challenge Tour this year, where the Royal Liverpool member has already claimed a maiden professional victory.
And he knows how to win around the Old Course having claimed the St Andrews Links Trophy two years ago – arguably the leading strokeplay event for amateurs in the UK – shooting nine-under for 54 holes, having played the first round on the Jubilee.
The 2017 Walker Cup player, who grew up playing at Hoylake currently sits second in the Road to Mallorca rankings – and he continues to impress in his dalliances with the European Tour.
The 23-year-old led the opening round of the Betfred British Masters in May, eventually finishing in a share of 15th place at Hillside Golf Club, showing his likeness for the Southport links not far from his home.
And he is out in front once again on British soil after a round which caught fire when he holed out with his approach at the par-four third hole.
Five birdies in a row from the fourth led to a front nine 29 and stirred hope of a potential chase for the magic number of 59.
Jordan, who clearly relishes links golf, said: "After that start, I wanted to keep momentum, because I knew I would have chances.
"I'll just try and go as low as possible because the scoring is so good. You can't make a few birdies and think, oh, I've done my job.
"I was just free-wheeling it really. I wasn't thinking too much which is probably a good thing.
"A 59 did cross my mind once. I had my friends here and they were quick to tell me that they wanted the same on the back nine.
"I've done quite well recently. I had one more invite so I just asked my managers, and tried to sort it out because I really wanted to play it – and I absolutely love this place.
"I am must trying to make the most of it," added Jordan.
Eight pars and a birdie on the way home were still enough to earn the Liverpudlian a 14-under total and a one-stroke advantage over his friend, Challenge Tour No, 1 Calum Hill, the leading Scot at halfway, as well as Essex's Matthew Southgate and Swede Joakim Lagergren.
Hill, who has one twice on the Challenge Tour this year, said: "It's always nice to be at home and play in front of family and friends that can come out and watch.
"And it's even better that I played well and they can enjoy themselves because of that as well.
"It's slightly different this week because everyone is playing a different course at a different time,"added Hill, who is just one win away from automatich promotion to the main tour under the current rules.
"It's just about playing as well as you can, and going as low as you can over these first two days and then after three rounds, I think you can look at your position a bit better and judge what you need to do for the final day."
World No. 4 Justin Rose was among the six players in a tie for fifth position on 12-under.
Rose, was also on 59 watch after making six birdies and an eagle in eight holes at Kingsbarn – where the featured players on Sky TV's coverage were playing in the second round.
The Hampshire ace, who has spoken about the effects of Hurricane Dorian on the Bahamas, where his family have had their main home for some five years, said: "It was an unbelievable front nine.
"Obviously a great round. Got me in the tournament. Eleven birdies, never going to be disappointed with that.
"I'm taking credit for the 28. JT (Justin Timberlake) was over the back of the par five third green in three, putted up near my coin and gave me a perfect read and I made an eagle putt."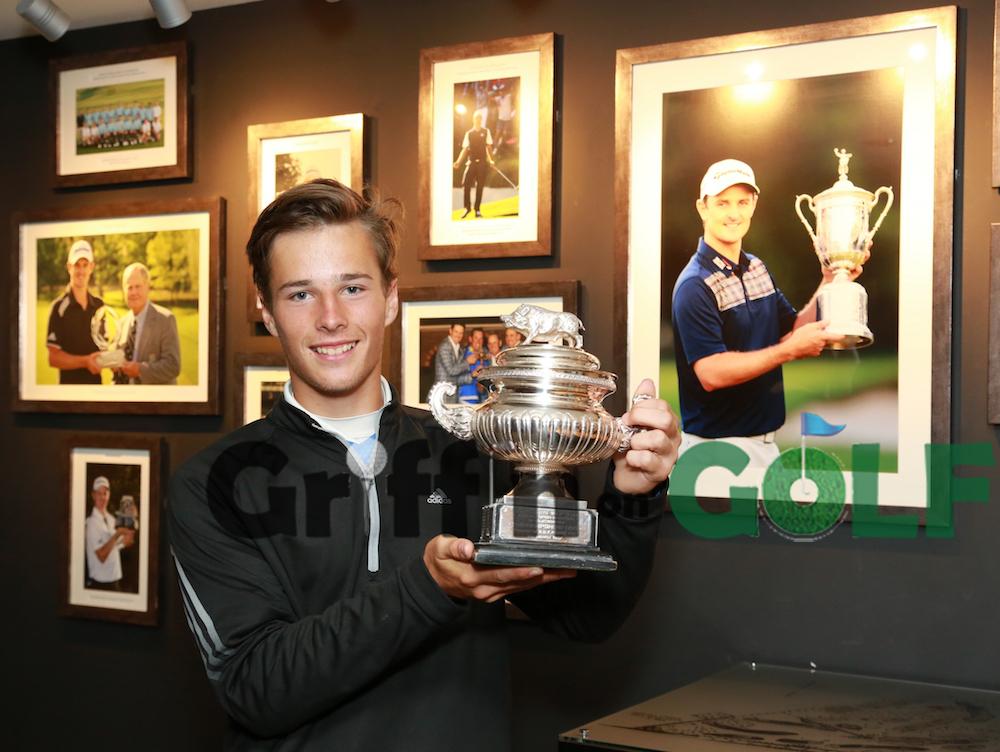 If Rose and Jordan can keep their place near the top of the leaderboard – and possibly find themselves paired for Sunday's final round, they will have more than one thing in common.
Jordan's first national win as an amateur came at North Hants – Rose's home course – in the 2016 Hampshire Hog, the event won in 1995 as a 14-year-old by the Ryder Cup star, who quickly became the country's hottest young prospect.
And Rose was the Hampshire player to win the St Andrews Links Trophy back in 1997 – the summer he became the youngest player to appear in the Walker Cup, having been selected – like Jordan – after his win at St Andrews.
Rose is tied alongside two home stars in Russell Knox and Richie Ramsey as well as New Zealand's Ryan Fox, Wiltshire's Jordan Smith and Frenchman Victor Perez.
•For live scores from the third round of the Alfred Dunhill Links. click here.