THE worst of the summer weather could not spoil the 30th anniversary of the Mike Smith Memorial Trophy – as former county champion Stuart Archibald held on for an emotional win at Brokenhurst Manor, on Saturday.
The New Forest club renamed the Brokenhurst Bowl in memory of the former England amateur international who died in a car crash in 1990, a year after he had been crowned Hampshire, Isle of Wight and Channel Islands Amateur Champion and the British Youths Champion.
After torrential overnight rain left the club's greenkeeping team battling to prepare the New Forest course for play, Archibald, who won three times on the EuroPro Tour before regaining his amateur status less than 18 months ago, was thankful the Hampshire Order of Merit event was restricted to just one round.
Stuart, who carded a one-under par 69 to win by a shot, said: "I don't think I would have stood any chance of winning the trophy if it had been 36 holes, as my back has been playing up recently.
"It is strange, after speaking to Mike's parents – and knowing the story about their son's tragic death – there is quite an emotional connection to this win.
"I lost my cousin in a car crash while I was playing on the EuroPro Tour and dedicated one of my wins to him.
"So I know how it feels when a family loses someone young so suddenly," added the 37-year-old. "I don't think I ever played this event when I was younger for some reason. Maybe once at the most?
"I played Brok's Junior Open 20 years ago and helped Hampshire's first-team prepare for a county match here in 2016, so I could remember the key holes, which helped.
"But Craig Neve and I both decided to miss Test Valley's Club Championship to play in this year's Mike Smith.
"So to win in it on the 30th anniversary of the event's founding as a tribute to Mike, is a good feeling.
"After I had spoken to Mike's parents Trevor and Gladys, I messaged our club manager Ali Briggs to tell him I had won.
"I wanted him to know I had done something for the club after missing their big weekend. Ali told me that he had played with Mike when he was younger.
"He said not only what a great player Mike was, but also what a fantastic person he was too. I certainly wanted to play in this event and represent Test Valley as best as I could.
"And to be the club's first winner of such a great event as the Mike Smith Memorial Trophy is something I can be really proud of. It feels like one of those things that was meant to be.
"Having fallen very much out of love playing golf for a living, when I play now, I turn up to enjoy myself and to enjoy the course. The greenkeepers did a great job considering how much rain fell overnight.
"When I came in and there was still one group left to finish, I was told my 69 was leading in the clubhouse. But I was convinced either, Ryan Moody, Toby Burden or Martin Young, especially on his home course, would shoot 68 or better.
"So to come away with the win was really great. I am going to play three more of the Hampshire Order of Merit events in the next few weeks, and see what happens.
"I told the county captain Neil Dawson when I got my amateur status back, I didn't want to deny any of the young players we have coming through any chances to play in the first team – I have had my time.
"But it obviously is great when I am fit and healthy enough to go out there and show I can still play."
Hodgetts bounces back from five-over to take third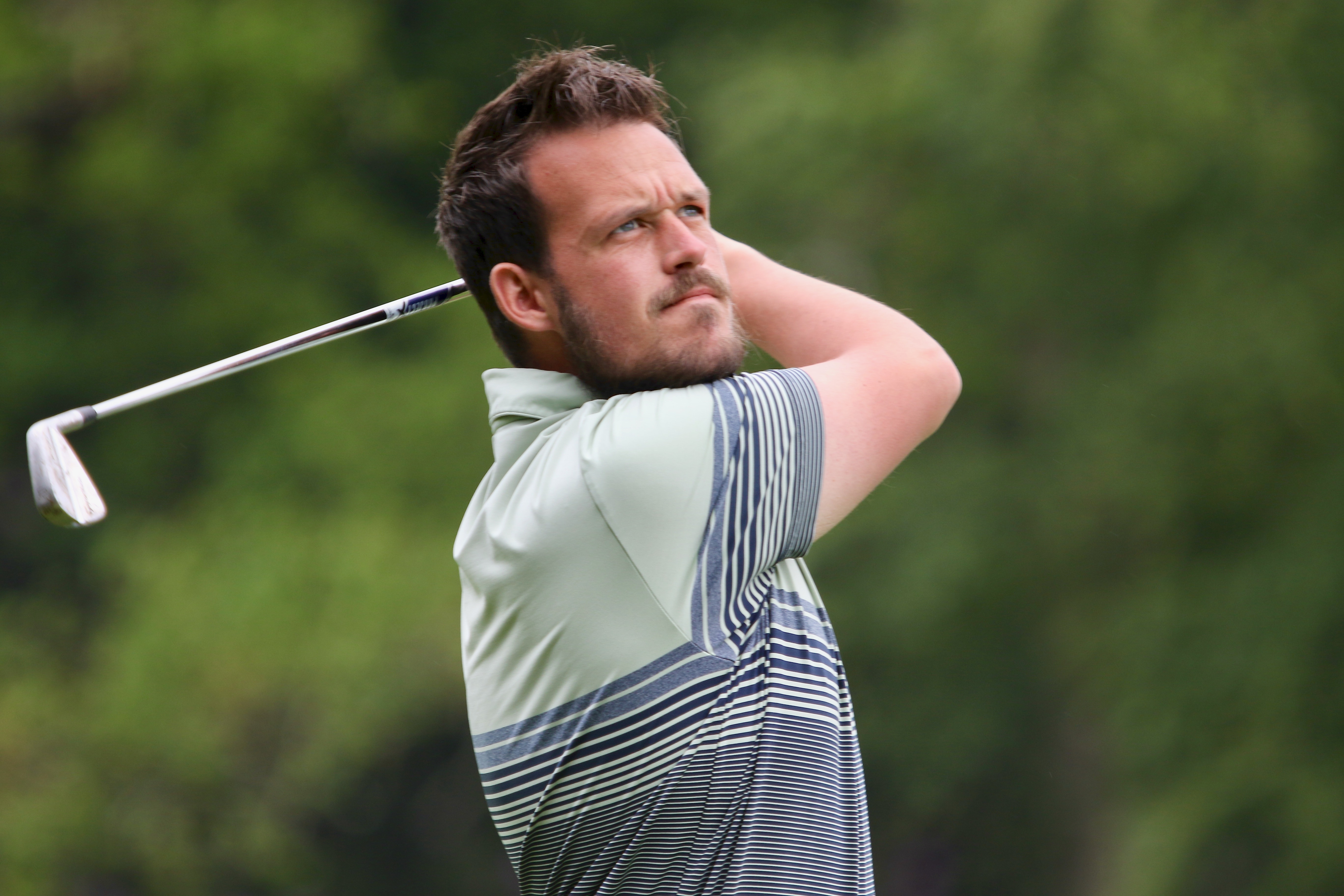 NORTH Hants' James Atkins (PICTURED), who produced six birdies in his round – but matched them with six bogeys – had to settle for second with a level-par 70.
Atkins, who produced three birdies in a row from the 14th after starting back-to-back bogeys edged out Hockley's in-form Luke Hodgetts, on countback.
The Hampshire Colt, who started at the ninth like Archibald and Atkins, bogeyed two of his first three holes and then took a treble bogey six at the par three 12th to go five-over.
But birdies at the 16th and the first before an eagle at the par-five second got him back in contention.
After dropping a shot at the fourth, he birdied the fifth and sixth to get back to level-par to complete a remarkable bounce back – even though an agonising lip out cost him a chance to tie the leader.
Luke said: "I lipped out on the seventh from eight-feet but had to make a good up-and-down from the bunker on my last hole, the eighth, to finish level.
"When I was five-over after four, I thought I might as well go for everything I could within reason. My aim was to get back to two-over. I got two horrid lies on the par three 12th after missing the green and had two putts for a six.
"I missed an eight-footer for a three on the 18th but chipped to three feet on the first after my drive ended greenside. Then I made eagle from 30 feet at the next, which meant I was one-over. I was trying hard to get back under-par.
"I missed from 15-feet for two on the third, but then didn't get up-and-down so I was glad to make a two from 20 feet on the next. I never thought once about the result but was pleased to pull it back like that."
•To see the final scores in the Mike Smith Memorial Trophy click here.
•ARCHIBALD is now the European Tour rep for Foresight Sports, who sell golf simulators and launch monitors, earned some £47,000 playing in 69 EuroPro Tour events between 2010 and 2015. He won three times, the last in 2014.
Stuart, who lost a play-off to Andrew "Beef" Johnston on the Jamega Tour 10 years ago, also spent five years playing on the MENA Tour in the Middle East, earning $65,844 in 44 events, with a number of top five finishes.
His county championship victory came in 2006 when he beat Toby Burden in the final on Toby's home course at Hayling.